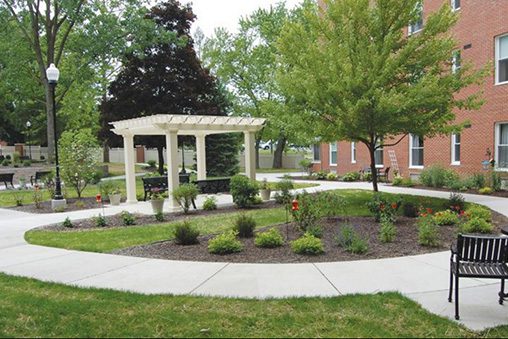 A reflective garden, built especially for those with memory loss, will be dedicated Thursday at the Dominincan Life Center, 1277 E. Siena Heights Drive.
Date: August 24, 2016
By: Dan Cherry, Daily Telegram Staff Writer
Daily Telegram, Adrian, MI
Adrian Dominican Sisters to Dedicate New Garden
A private garden for residents of the Adrian Dominican Life Center will be unveiled Thursday in a public dedication ceremony.
The Dominican Life Center reflective garden will be dedicated at 5 p.m. outside the center's activities room, said Director of Communications Angela Kessler.
More than 1,100 donors contributed $247,000 for the garden's construction, Kessler said, built especially to serve those residents with memory loss.
"It will be a safe, secure area for the residents there at the Dominican Life Center to enjoy the outdoors," Kessler said.
The garden, surrounded by a high fence for privacy and safety, will feature three primary areas — a prayer garden, a butterfly space and a hummingbird garden.
Kessler said plants and flowers have been chosen to attract butterflies and birds, paired with lavender, sage and mint to foster calming feelings. There also will be a raised garden area where the sisters can cultivate plants.
The garden was developed through a cooperative effort between a campus committee and the Adrian Design Group, according to Kessler.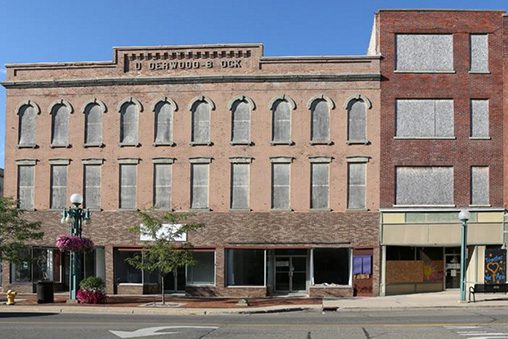 Strongback Properties intends to redevelop the buildings at 101-111 E. Maumee St. in downtown Adrian, pictured here in August, into apartments and retail space. The project recently received support from the Michigan Economic Development Corp. Telegram photo by Mike Dickie.
Date: February 14, 2016
By: Lonnie Huhman, Daily Telegram Staff Writer
Daily Telegram, Adrian, MI
Downtown Adrian Strongback project gets a boost from Michigan Economic Development Corp.
The Michigan Economic Development Corp. is putting its support behind the Strongback project in downtown Adrian.
Strongback Properties and its partners announced on Friday they've received a letter of support from the MEDC for the renovation project at 101-111 E. Maumee St. The "four-corners" project on the northeast corner of Maumee and Main streets in downtown is expected to create 17 new apartments on the upper floors and new commercial space on the first floor.
"We're really excited. There's a lot more to do, but this is a major step forward," said Doug Kapnick, who formed Strongback Properties with Steve Hickman.
The support Strongback will receive for the project from the MEDC should make up a significant part of the estimated $4.7 million dollar project investment. Kapnick said in total the incentives being coordinated by the MEDC could come out to 60 percent of the total costs.
"Without this kind of financial support from the MEDC, the project's costs would make it infeasible to bring about its redevelopment.
"This project is something that we are excited to make happen in our hometown," Kapnick said.
The MEDC becomes the new partner on a team that includes the city of Adrian, Adrian Design Group, Lansing construction firm Kincaid Henry and Lansing redevelopment consulting firm Triterra.
Adrian Area Chamber President and CEO Ann Hughes interviews Mike Nicklowitz, architect and owner of Adrian Design Group, PLC